Historic sites and museums
Adventure Science Center This museum opened in 1973 and contains exhibits on cultural history, the natural world, the universe, and health. It also has a planetarium. 800 Fort Negley Blvd. Open daily 10-5, Closed Christmas and Thanksgiving day, admission fee.
Belcourt Theatre Nashville's Non-Profit Cinema dating back to 1925. 2102 Belcourt Avenue. Open 365 days a year, opens 30 minutes before the first screening of the day, admission fee. 
Belle Meade Plantation With 5,400 acres, Belle Meade was a prominent stud farm and nursery in the horse industry until its sale in 1904. Beginning as a two story Federal style home constructed in the 1820s, the house was altered in 1853 with an addition and Greek revival facade. 110 Leake Avenue. Open M-Sa 9-5, Su 11-5, admission fee. Historic marker
Belmont Mansion This opulent 1850 Italianate house was a summer home for Joseph and Adelicia Acklen. Mrs. Acklen was reputed to be the wealthiest American woman of her time. 1700 Acklen Ave. Open M-Sa 10-4, Sun 1-4, Closed all major holidays, admission fee. Historic marker.
Bowen Plantation House Located in Moss-Wright Park at the Mansker's Station Living History Museum, this 1780s brick home is one of the oldest in Tennessee. 745 Caldwell Dr., Goodlettsville, Open M-F 9-4:30, No tours between 12-1, admission fee. Historic marker.
Carl Van Vechten Gallery Fisk University. Originally functioning as a gymnasium, the first on an African-American university campus, this building was completed in 1888. It was renovated to house the art collection given by Georgia O"Keefe. 18th Avenue North and Jackson Street. Academic Year (Aug 14 – May 7): Open Tu-Sa 10-5, Summer (May 7 – Aug 14): Open M-Fr 10-5, admission fee. Historic marker.
Cheekwood/Tennessee Botanical Gardens & Fine Arts Gallery This Georgian mansion, built in 1929 for Leslie Cheek, was given to the state in 1959. Today it is a non-profit organization housing a collection of 19th- and 20th-century works. 1200 Forest Park Drive. Open Oct 15-May: M-Sa 9-5, Su 11-5; June-Oct 14: M-Th 9-8, F-Sa 9-5, Su 11-5, admission fee.
Clover Bottom Mansion This Italianate house was built in 1858 by James Hoggatt. It currently houses the Tennessee Historical Commission. 2941 Lebanon Road. Open M-F 8-4:30, no tours, no admission fee. Historic marker.
Country Music Hall of Fame The Hall of Fame opened in 1967. It is operated by the Country Music Foundation, which also operates RCA"s historic studio B, which can be toured by museum visitors at no extra charge. 4 Music Square East. Open Nov-Apr: M-Su 9-5; May-Sept: F-Sa 8-6, admission fee.
Fort Negley 1100 Fort Negley Blvd. Open Winter Hours (September – May) Tu-F 12-4, Sa 9-4, Summer Hours (June – August) Tu-Th 12-4, F-Sa 9-4, admission is free. Historic marker. 
Frist Center for the Visual Arts  Opened in April 2001, and has hosted a wide array of art from the region, the country, and around the world. 919 Broadway, Nashville. Open M-W,Sa 10-5:30, T-F 10-9, Su 1-5:30, admission fee. 
Grassmere Historic Home and Farm The Grassmere Historic Home was originally a ca. 181o Federal style building which was updated with Italianate details in the 1870s. Located in pristine woodland and part of a once 340-acre farm, it remained in the hands of 5 generations of family until 1985. The home is now part of the Grassmere Historic Farm area of the Nashville Zoo.  3777 Nolensville Road. 
Hatch Showprint This "working" museum features an extensive collection of wood printing blocks and presses. 224 5th Avenue South, Open M-Sa 9-5:30, no admission fee.
The Hermitage The home of President Andrew Jackson, this house has been restored to the period of his retirement (1837-45). The site also contains the original log Hermitage, Jackson"s tomb, and the mansion garden. 4580 Rachel"s Lane. Open M-Su 9-5, admission fee. Historic marker.
The Johnny Cash Museum  119 Third Avenue South, Nashville. Open Daily 11-7, admission fee. 
Mansker's Station Kaspar Mansker established this station of the Cumberland Settlements in 1780. Moss-Wright Park, Goodlettsville. Open T-Sa 9-4:45, admission fee.
Musicians Hall of Fame and Museum Historic Nashville Municipal Auditorium, 417 Fourth Avenue North Nashville. Open M-Sa 10-5, admission fee.
The Parthenon A full-scale representation of the Athenian Parthenon was built for the 1897 Centennial Exposition. After falling into decay, it was rebuilt in reinforced concrete between 1920 and 1931. Inside is a 42-foot high statue of Athena. Centennial Park. Open T-Sa 9-4:30, Su 12:30-4:30 (1 Apr – 30 Sept. only) admission fee. Historic marker.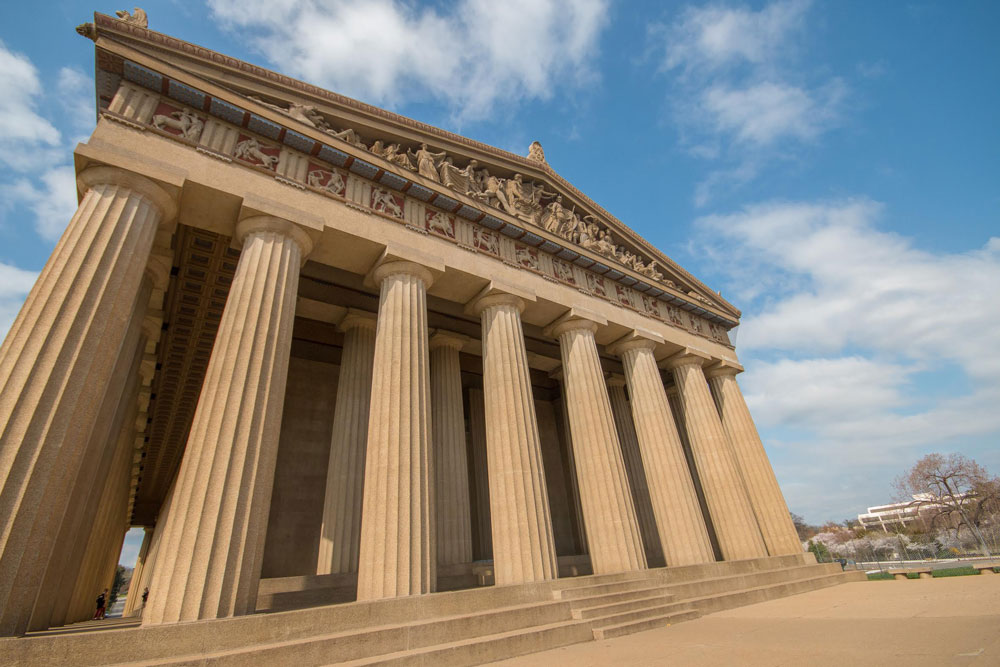 RCA Studio B  Music Row, Nashville. Open Daily 10:30-2:30, admission fee (tickets are sold in conjunction with Country Music Hall of Fame museum admission)
Ryman Auditorium A prominent Nashville landmark that was at one time dubbed the "Carnegie Hall of the South" and housed the Grand Ole Opry(R) from 1943 – 1974. Originally built as the Union Gospel Tabernacle in 1892, it was then renamed to Ryman Auditorium in honor of Tom Ryman who was responsible for its construction. In 1994, an $8.5 million renovation project restored this National Historic Landmark back to its original splendor. 116 5th Ave North, Nashville. Open 9-4 Daily, admission fee.
Scarritt-Bennett Center Formerly Scarritt-Bennett College, a Methodist school,this handsome 1920s Collegiate Gothic campus now functions as a conference center. Also located in the Lasker Library is the Hartzler-Towener Multi-Cultural Museum. 1008 19th Avenue South. Campus tours by appointment only (340-7500), museum open to the public, no admission fee.
Tennessee Agriculture Museum This museum features a collection of 19th century farm and home implements housed in a 24,500 square foot horse barn. Also in the museum is the Tennessee Agricultural Hall of Fame. Ellington Agricultural Center, Hogan Road. Open M-F 9-4, admission is free.
Tennessee State Capitol Designed by William Strickland and completed in 1859. Charlotte Avenue between 6th & 7th Avenues. Open M-F 9-4, admission is free.
Tennessee State Museum Starting from prehistoric Native American and continuing up to the New Deal, the museum has exhibits on all periods of Tennessee History. There is also Military Branch located in the War Memorial Building. 505 Deadrick Street. Open T-Sa 10-5, Su 1-5; Military Branch: T-Sa 10-4, Su 1-4), admission is free.
Travellers Rest Judge John Overton built his four-room frame house in 1799 on the burial mound of a Native American settlement. By the time of his death in 1833, the house had been expanded into a 12-room plantation house. 636 Farrell Pkwy. Open T-Sa 10-4:30, Su 1-4:30, admission fee. Historic marker.
Tulip Grove Tulip Grove is the 1836 home of Andrew Jackson Donelson, nephew of President Andrew Jackson. It is an elegant Greek Revival structure that is part of The Hermitage, along with the Old Hermitage Presbyterian Church. Historic marker. See The Hermitage for admission information.
Two Rivers Mansion David McGavock built this Italianate house in 1859. It was the jewel of a large plantation and remained in the family until 1956. 3130 McGavock Pike. The site is not open to the public on a regular basis, available for function rental. Historic marker.
---
Historic Tours
Songbird Tours Part tour bus and part intimate music club, SongBird brings you the stars and stories behind Music City's famous (and not-so-famous) landmarks, plus special one-night-only performances by Nashville's best songwriters, live on our on-board stage. In a nutshell, it's like The Bluebird Cafe* on wheels. SongBird Tours was founded in 2017 by Patsy Bruce and her son Trey Bruce, both acclaimed songwriters in their own right. The duo wanted to give visitors and locals alike a "songwriter's-eye view" of Music City, highlighting the art form itself as well as the sites and stops where music history is made. Tours are given daily.
Let's Go Travelin' Music Row Walking Tours Walk in the footsteps of the stars and discover the stories of Music Row's past and present. Elvis, Dolly, Carrie, Garth, Taylor, Luke they all either have or are currently recording here. Over 20 recording industry sites and the stories to go with them. Individual volume control listening devices for each person. It's History, It's Music, It's Recording Studios…There is no place like Music Row anywhere and there is no other walking tour like this one. A portion of your ticket purchase supports the preservation on this historic music district. Day tours are given Wednesdays & Saturdays at 10am & 1pm and evening tours are given Mondays & Thursdays at 6pm.
---
Parks And Cemeteries
Bicentennial Capitol Mall State Park Developed in honor of Tennessee"s 200th anniversary of statehood, the site was chosen to preserve the view of the State Capitol. Located between Sixth and Seventh Avenues North from James Robertson Pkwy. To Jefferson St. Guided tours by appointment, admission is free.
Centennial Park The site of the Tennessee Centennial Expo-sition, this park contains a full-size representation of the Parthenon (now a museum). West End and 25th Ave. N. Park open 6am-11 pm.
City Cemetery is the oldest public cemetery. The land was purchased in 1820 and the cemetery opened in 1822. It includes such notable Nashvillians as Gen. James Robertson and Capt. William Driver (who nicknamed the US flag "Old Glory"). 1001 4th Ave. South. Open dawn to dusk.
The Jewish Cemeteries Nashville's Jewish community began in 1851 with a small group of European immigrants. Their first official act was the purchase of land for a cemetery. Three synagogues (Sherith Israel, The Temple, and West End Synagogue) now have adjoining cemeteries. 2001 15th Ave. N. Open 8am-5pm weekdays.
Mt. Olivet Cemetery Established in 1855, this cemetery hosts a wealth of Victorian tombs. In addition, there are the Con-federate Memorial, a pyramid designed for E.C. Lewis and a Gothic vault for Adelicia Acklen. 1101 Lebanon Rd. Open dawn to dusk.
Sevier Park/Sunnyside Mansion Sevier Park is the site of several early log structures, as well as the ca1850 Sunnyside Mansion. Clayton Ave. and Leland Lane. Open by appointment. 
Spring Hill Cemetery Established c1785, this cemetery is the oldest in Nashville. Buried here is Rev. Thomas Craighead, the founder of Davidson Academy. 5110 Gallatin Road. Open 8-dark.
Warner Parks With 2,664 acres, this complex is one of the largest municipal parks in the U.S. The stone gates at the Belle Meade Blvd. entrance and stone walls were constructed by the WPA. On site are the Nature Center and the C.E. Farrell Natural History Museum and Gardens. Open 6:30 am – 11 pm. Historic marker.