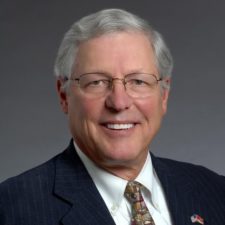 Robert D. Tuke is a partner in the law firm Trauger & Tuke and has been an Adjunct Professor at Vanderbilt University School of Law. He received his education from the University of Virginia (B.A.) and Vanderbilt University (J.D.). Mr. Tuke is the author of articles on historic preservation, securities, ethics, municipal finance, environmental, and adoption law. He is a Fellow and past President of the American Academy of Adoption Attorneys. Mr. Tuke served as Chairman of the Tennessee Democratic Party in 2005-2006, and he was the Democratic nominee for the US Senate in 2008.
Mr. Tuke has been honored as a "Fellow" of both the Tennessee Bar Foundation and the Nashville Bar Foundation. He is listed in Best Lawyers in America and Who's Who in American Law. He also is listed among Super Lawyers of the Mid-South as a Tennessee corporate and business lawyer.
Mr. Tuke has played an active role in historic preservation in Nashville for more than thirty-five years. He joined the board of Historic Nashville, Inc. (HNI) in 1979. He has served the organization in several leadership roles and was instrumental in the group's reorganization in 2006. Mr. Tuke also helped design and develop HNI's conservation easement program, which HNI first launched in 1982. Since that time, Mr. Tuke has prepared all of HNI's conservation easements and has participated in a number of other historic preservation transactions. HNI now holds easements protecting seventeen historic properties in Nashville and Davidson County.
Mr. Tuke served as lead attorney in the suit against the General Services Administration of the United States (GSA) for failing to restore or stabilize the vacant and condemned Union Station, a property the GSA had acquired in 1978 as part of the Public Buildings Restoration Program. That lawsuit and attendant discovery, testimonies before the U.S. House Committee on Public Works, and a petition containing over 20, 000 signatures delivered to the House Committee helped convince the GSA to deed Union Station to the Metro Government, provide for fumigation and stabilization services, and to provide more than $7 million in restoration funding, thereby saving the historic landmark from certain demolition.
Mr. Tuke is President of the Board of Operation Stand Down Tennessee, a veterans service organization, and past Chairman of the Tennessee State Veterans Homes Board. He also serves on the Boards of Directors of Tennessee Parks and Greenways Foundation and Miriam's Promise adoption agency.
Mr. Tuke is a lifetime member of the Sierra Club, a multi-year member of Greenpeace and the Nature Conservancy, a member of the National Parks Conservation Association, the Tennessee Environmental Council, the League of Conservation Voters, the National Wildlife Federation, and the Environmental Defense Fund, among other environmental organizations. He also participated as counsel to plaintiffs against the U.S. Corps of Engineers and the TVA in successful efforts to preserve wetlands and to keep the Ocoee River flowing.
Mr. Tuke was an active duty Marine officer from 1969-1973 and served in Vietnam, where he was awarded the Vietnamese Cross of Gallantry in combat, among other decorations.